What a blessing to spend time with Mary Leathea Pettway.  When I interviewed Tangular Irby, she told me about her aunt that is such a great influence in her life and she even used some of her aunt's quotes in the book she wrote: Pearl and Her Gee's Bend Quilt!  If you haven't had a chance to listen to my interview with Tangular, you'll want to find it and hear her story.  In this episode with Mary Leathea I enjoyed the great wisdom she has to share in such a humble way.
With Mary Leathea being a Gee's Bend Quilter, I am honored to be allowed to post pictures of her quilts.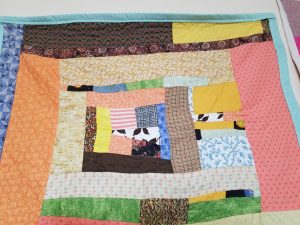 And this one on a doll bed is so adorable!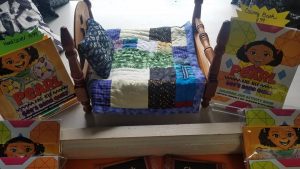 Thanks to Tangular Irby for helping me to connect to Mary Leathea!
Find out more about Tangular and her book, Pearl and Her Gee's Bend Quilt:
Website: Gees Bend Made
Facebook: Gees Bend Made
Twitter: Tangular Irby
Linkedin: Tangular A. Irby, Adjunct Educational Consultant
Instagram: geesbendmade
YouTube of Story Time w/ Kayla where Kayla reads Pearl and Her Gee's Bend Quilt