A Quilter's Life 2 Year Anniversary
Hard to believe I've had the privilege of interviewing quilters for 2 years now!  I enjoy each and every one.  And I'm so looking forward to continuing to meet these wonderful people behind the beautiful quilts.  
This past year I finished these quilts for my twin nieces.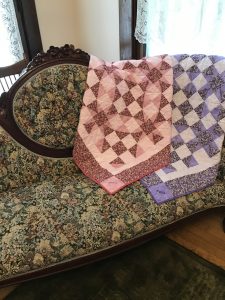 And I'm sure you've seen that it's better to fold our quilts on the bias.  So I've started to fold them like this to give them away.