Kathryn Mykel – Sewing Suspicion
If you love mysteries and quilting, you're going to love Kathryn Mykel's new book series starting with Sewing Suspicion.  Mykel is her pen name.  You might remember her previous episode on A Quilter's life as Kathryn LeBlanc.  Kathryn and I had so much fun talking about her books and I'm excited that she has different quilts connected with each one of them.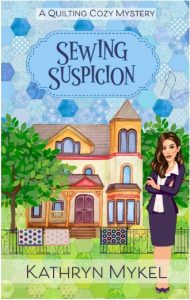 Here's the best link to find out more about Sewing Suspicion!
Contact Kathryn for the Goodie Two Shoo's Pattern at Authorkathrynmykel@gmail.com
Also find her on
Facebook: Dragonfly's Quilting Design Studio
Instagram: Dragonfly's Quilting Design Studio