Kathryn LeBlanc of Dragonfly's Quilting Design Studio has been busy bringing quilters and quilt designers together.  So often we are busy building our own businesses that we forget that we're in this together.  Kathryn has created a special block of the month program where different designers create blocks in a theme so that quilters get an opportunity to be introduced to many designers.  Although it's called a block of the month I think the blocks are coming out weekly.  We chat about her current Block of the month called US Tour.  Since we recorded I have learned she also is working with the designers on a new block of the month that should be out later in 2021.  I was also excited to realize that four of the designers in these projects have already been interviewed on A Quilter's Life.  Carolina Moore of Always Expect Moore, Ashli Montgomery of Quilt 2 End ALZ, Tammy Silvers of Tamarinis, and Carolyn Burgess of Appliques Quilts and More.  A special thank you to Carolyn as she connected me to Kathryn.
Here's Kathryn's quilt Goodie Two Shoo's and the link to the pattern: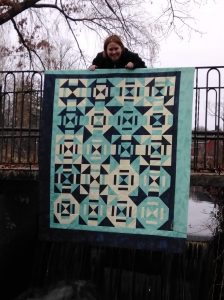 Contact Kathryn for the Goodie Two Shoo's Pattern at Authorkathrynmykel@gmail.com
Also find her on
Facebook: Dragonfly's Quilting Design Studio
Instagram: Dragonfly's Quilting Design Studio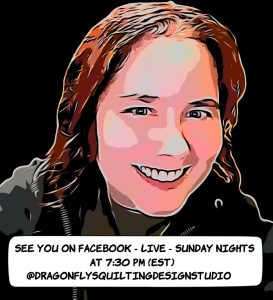 Thanks again to Carolyn Burgess for connecting me with Kathryn.
You can find Carolyn at:
Website: Appliques Quilts and More   https://www.appliquesquiltsandmore.com/
Twitter: Appliques Quilts and More -@AppliquesM
Facebook: Appliques Quilts and More
Pinterest: https://www.pinterest.com/appliquesquiltsandmore/_created/
Instagram: appliques.quilts.and.more