We've all run into at least one person that thinks we should do something with our quilting that isn't what we want to do.  Corintha Russell explains this very well and has a great way to let them know that's not what she does.  She also has one of the best stories of a wonderful reaction to giving a quilt away.  It's wonderful when others show the well deserved appreciation of receiving a quilt.  I want to thank Sue Stafford of Serendipitee Quilt Shop for putting me in contact with Corintha.
Corintha's first "Ocean Wave" quilt, made for a friend's Mother. It was pieced by her using Edyta Sitar's "Over the Rainbow" batik fabrics, quilted by a Longarmer, "Baptist Fan" pattern. She LOVED this quilt so much and is currently working on a duplicate version that she will keep for herself.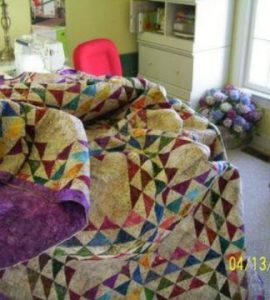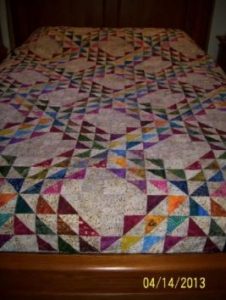 In July, 2014 Corintha won the APQS (American Professional Quilting Systems) Great American Give Away! And Freddie came to live with her!!!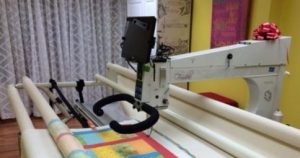 Since Freddie (her automated APQS quilting machine) came to live with her in Marion, Ohio. The following pictures are some of Corintha's favorite quilts that she made and Freddie quilted.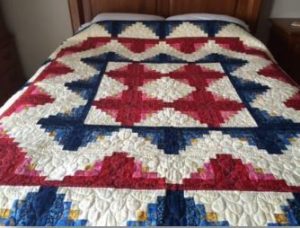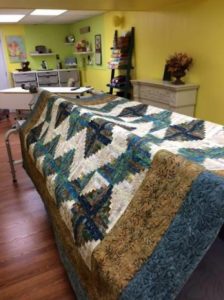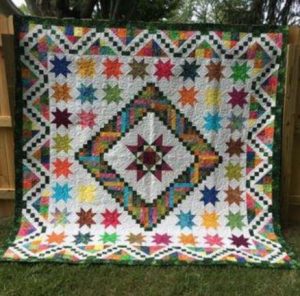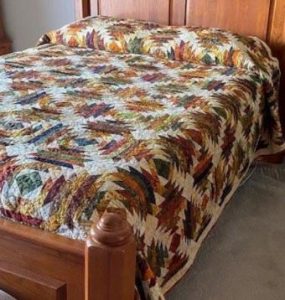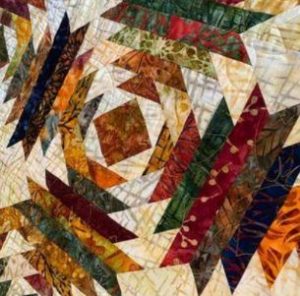 From APQS' Website:
When Corintha Russell found out she was the lucky winner of the brand new APQS Freddie longarm machine last year, her quilt guild had just taken on a challenge to make patriotic quilts for 90 veterans scheduled to take the Columbus, Ohio, Honor Flight this fall …
Hop over to the APQS blog to read about how Corintha and her new Freedom machine tackled more than 55 quilts in UNDER a year!
We supported the Columbus, Ohio Honor Flight organization for three flights over a two year period. Lack of support prompted us to wish Honor Flight the very best and turn our quilting efforts to Snuggled In Hope Quilts.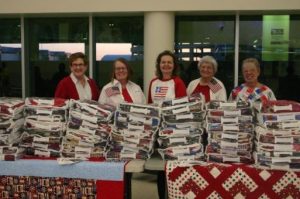 Thanks to Sue Stafford for connecting me with Corintha!
Here's Sue's website: Serendipitee