I was connected with Wendy Appell in a roundabout way.  My sister, Lois Gillette, walks with her friend, Dorcus Williams, who's daughter's mother-in-law is Wendy. Thank you Lois and Dorcus for talking about A Quilter's Life and being able to connect me with Wendy.  Wendy and I found out we had something else in common.  Towards the beginning of our conversation we mention Practical Bible Training School which is now Davis College.
Wendy's Labyrinth quilt on the bed and the quilt that is hanging on the wall is the one made from her Grandma & Great Aunt's clothes.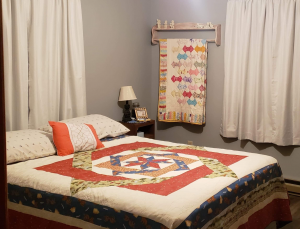 Here is the quilt she made for her son using a table runner pattern.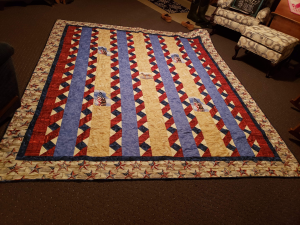 This is the Bear Claw quilt that she and her friends figured out from a small picture.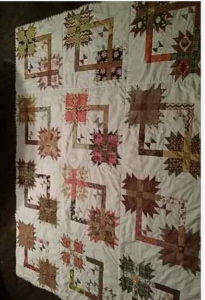 This is one of the aprons Wendy made from a pair of jeans.