Samantha Macrina has fallen in love with learning to quilt after she bought a sewing machine to make masks during the pandemic.  It has been so wonderful to have Samantha in the A Quilter's Life Facebook group.  And I'm so glad we had the opportunity to get to know each other through quilting!
Here's the quilt Samantha made for her mother.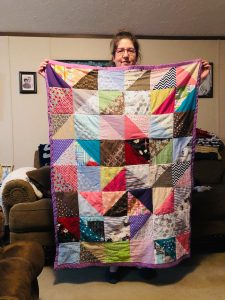 Samantha talked about working with Debi Montgomery.  Here's some links that Debi suggested in helping the refugees from Ukraine.
Debi's Mystery Quilt: Sending Love
Quilted Twins Quilt Shop: The Ukrainian Relief Fund
And if you'd like to listen to Debi's episode: Debi Montgomery
Samantha also talked about helping Ukrainian Kids at St. Jude's and here's a link to St. Jude's.