Linda Parkhouse has quite a list of positions she holds.  Among them are event speaker, podcaster, personal and leadership growth coach, and quilter.  Although Linda and I didn't discuss her podcast, you might want to check out Words to Lead By with Linda Parkhouse.  Her podcast isn't about how to lead, rather it's things to think about and ways to become the best leader for those who follow you.
South Fork Sunset – This was the view from Linda's second home in Alaska in winter at sunset. Original quilt made in about 1990.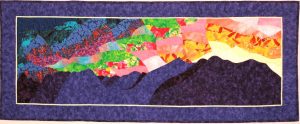 This hand pieced quilt was inspired by a quilt on Linda's grandmother's guest bed. She thinks the pattern is called Jacob's Coat. She copied it by tracing a pattern from her quilt. The fabrics are from clothing she had made for her daughters when they were little.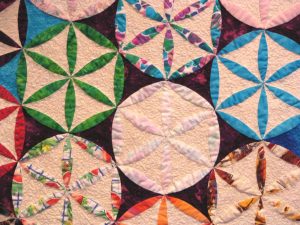 The eagle is a block Linda designed from a photograph. She sketched and designed the helicopter block because her husband flew HH60 Blackhawks. The view is their valley in Eagle River, Alaska. They are part of a larger Alaska memories quilt.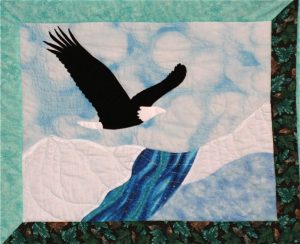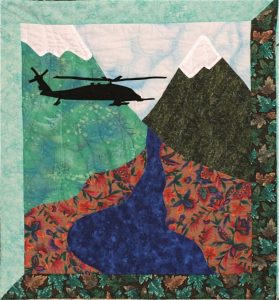 Linda designed this quilt for one of her daugters in her butterfly-loving phase. She used decorative stitches from her machine on the wings, pre-made bias tape for the bodies and antennae and stippled using a multi-colored thread.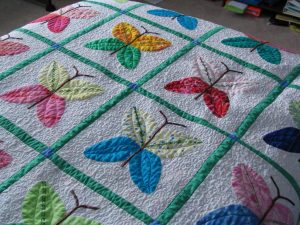 This quilt, a gift to Linda's husband, is 12″x 18″ and showcases some tatted pieces I made from variegated tatting thread. A set of hand-dyed fabrics worked perfectly to showcase each piece.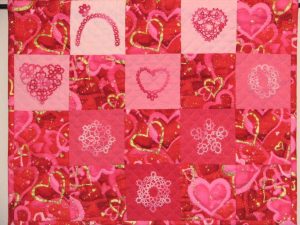 These tiny trees are folded flying geese, so a bit 3-D. The piping technique on the binding is by Susan K Cleveland. The quilt is about 2 ft square.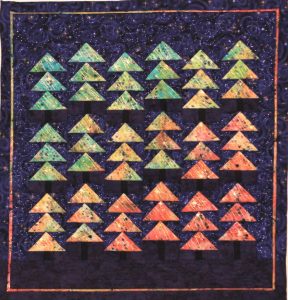 This is a custom quilt commissioned by a friend. She had specific memories to highlight. It is about 2′ x 3′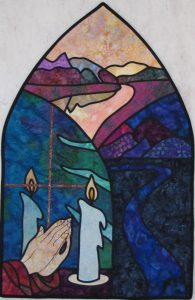 Linda designed this quilt for her niece as a wedding gift. It's about 2′ wide by 3′ tall.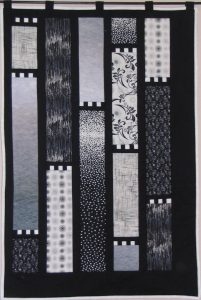 "Denali Sunrise" was inspired by a magazine photograph and a quilt challenge. They were given the floral fabric and it had to cover 2/5ths of the quilt surface. Linda cross-stitched the lupine and added beading in the reflection. The cross-stitch pattern was not my own, but she doesn't remember whose it was after 30 years. This is also the first quilt purchased by someone else. It was bought at a charity auction.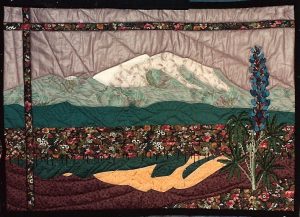 Linda was intrigued by feathered star quilts, but didn't want a bed-sized one. 18″ square, this was a gift to my mother-in-law.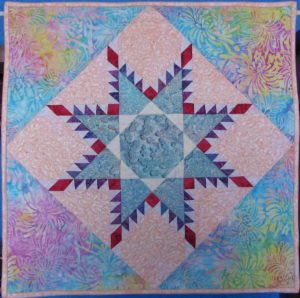 A friend in Copenhagen wanted more color in her apartment and she loved impressionist art. Linda would love to do a series of quilts like this one day.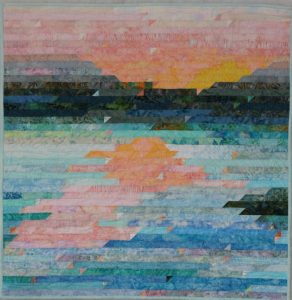 Linda's most recent twin-sized quilt is also a repeat of a long ago project designed to cover their basement windows with the view we saw when the windows were open. She decided to do each window in a different season. Fast forward many years and her daughter asked for quilts made of two seasons each. She was able to find the patterns on overhead transparencies and after searching ebay for an old overhead projector, re-created the designs. She'll make the spring/summer version once she finishes her current project.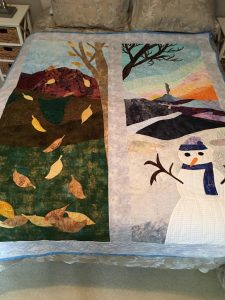 "Sleeping Lady at Sunset"
– A summer sunset inspired this quilt originally designed as a commission for a business that later stepped out of the contract. Linda benefited from that decision and now enjoys this quilt in summer above her bed. It is 6′ wide and 2′ tall. The fireweed pattern is by Dana Verrengia – Wildfire Designs Alaska