I'm so glad that Lin McQuiston contacted me after her guild members Carolyn Burgess and Betsy Bauman had been interviewed. Lin and I had a wonderful time visiting. Have you ever journaled about what was going on in your life while making a quilt? It helped Lin realize how her quilt got her through the best of times and the worst of times.
The quilt below is Stars and Springs (aka Life Interrupted) by Kim McLean. This was only Lin's second hand appliqué quilt. She used freezer paper and starch to turn the edges before hand stitching them to the background. It was started Dec 2011 and finished in the summer of 2014. She quilted this herself on a HQ Avante. She journaled her life during the making of this quilt. It won Best of Show at Lake Farmpark In Kirkland, Ohio in 2015. It was nominated by Linda McCuean for a Master Quilter award and was judges in Arizona in 2016. Although it did not win an award, it was an honor to be nominated.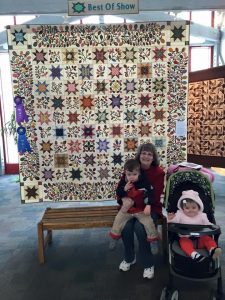 This quilt is named Benjamin Biggs. It is an adaptation of an antique quilt owned by Gay Bomers of Sentimental Stitches. Lin's method of appliqué is hand stitched, turned edge. It was a free BOM a few years ago. It is now available on Gay Bomers website. The quilt was quilted by Joy Voltenburg of Custom Quilts of Joy. It won Best of Show in 2020 at at the Lake Farmpark quilt show in Kirkland, Ohio and was accepted into the AQS Grand Rapids show. Unfortunately the show was cancelled due to Covid.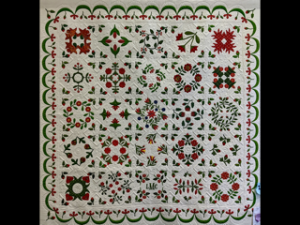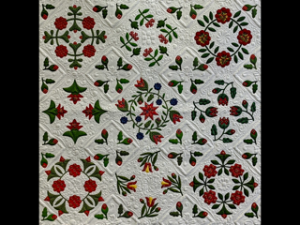 This quilt is Red Ribbon Quilt. It was a free pattern on Beth Donaldson's blog, a quilt originally published by Nancy Page in the Birmingham News on February 25, 1935. The two 9" borders were perfect to showcase the red Barbara Blackman fabric Lin had in her stash. Lin did the quilting on her HQ Avante. It won Best of Show in 2016 at the Lake Farmpark Quilt Show in Kirkland, Ohio.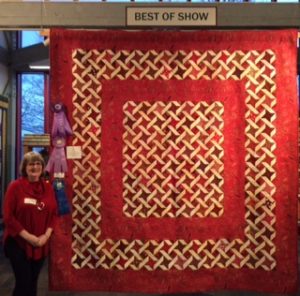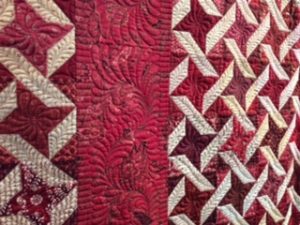 The next quilt is The 1857 Album Quilt. This was another free BOM by Gay Bomers of Sentimental Stitches. Lin replaced 9 of the original block patterns with her own, including silhouettes of her four grandchildren and hands of one of her granddaughters. All turned edge appliqué, hand stitched and hand embroidery. It won Best of Show at the Lake Farmpark quilt show in Kirkland, Ohio, in 2017, third place at the Shishewana Show in 2018, juried in the AQS Grand Rapids Show and was published in the 2020 AQS Quilt Engagement Calendar (January).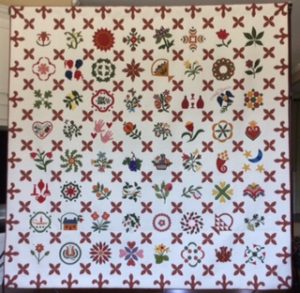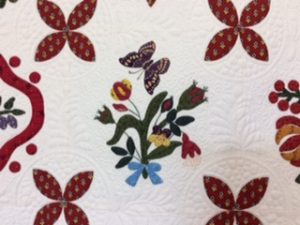 The last quilt is the Shenandoah Valley Botanical Garden quilt. It was a BOM run by the Virginia Quilt museum, patterned after a quilt in their collection by Brenda Matthews in 1858. This quilt was quilted by Linda Sekerak of Medina, Ohio. It was displayed in the Beyond the Valley exhibit in both the Virginia Quilt Museum and The Houston Quilt Festival during the summer and Fall of 2018. It won Best of Show at the Lake Farmpark quilt show in Kirkland, Ohio in 2019.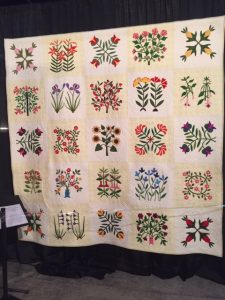 If you'd like to contact Lin, her email address is frzbaby@aol.com
She does do lectures if it's close by.
If you'd like to check out Lin's guild members Betsy and Carolyn, here's their information.
Betsy's Contact Information:
Cell: 216-209-1171
2189 Lincoln Ave., Lakewood, OH 44107
Listen to Betsy's episode click here.
Carolyn's Contact Information:
Website: Appliques Quilts and More  https://www.appliquesquiltsandmore.com/
Twitter: Appliques Quilts and More -@AppliquesM
Facebook: Appliques Quilts and More
Pinterest: https://www.pinterest.com/appliquesquiltsandmore/_created/
Instagram: appliques.quilts.and.more