Besides being in quilting groups, I'm also in a group for podcasters so that I can learn how to do better in making this podcast for you.  A few weeks back the podcaster group had Kathi Lipp as a special speaker.  When she saw that A Quilter's Life was the name of my podcast, she mentioned that her mother made wonderful quilts.  So that was my introduction to Connie Richerson.  Connie was so gracious to share her story with us.  She has been quilting for over 30 years and has great tips for us to learn from.  Oh, and if you're looking to get yourself organized her daughter, Kathi, is a speaker, podcaster, and the author of 20 books on being clutter free!  There's more information about Kathi on the website kathilipp.com.
Here's the cute quilt with the mommy and baby elephants with the recipient of the adorable quilt.  I love the yellow!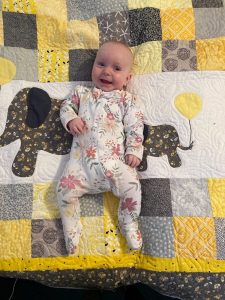 Thank you Kathi for connecting me with your mom!
If you'd like to learn more about Less Clutter.  More Life.  Check out Connie's daughter's website:  Kathi Lipp