I just love visiting with these quilters and Carolyn Schmitt was no exception! I am so excited to share her story with you. I'm sure you'll enjoy this active retreaded quilter!
Here's some of Carolyn's quilts with her descriptions.
I love scrap quilting regardless of the pattern. I say my mind operates like a scrap quilt, so this is a "picture" of it. The blue border is a liturgical color for the Word of God, and the rainbow binding is a symbol of God's promises.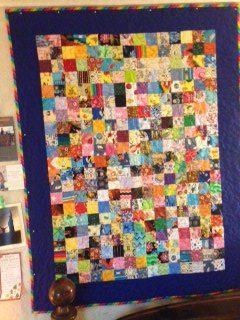 Log cabin is my favorite and I am especially fond this asymmetrical setting.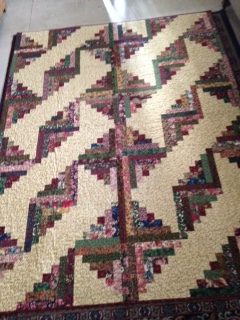 This is a wall hanging made from a few of the blocks left over after making a double bed quilt for my aunt for her 80th birthday in 1997.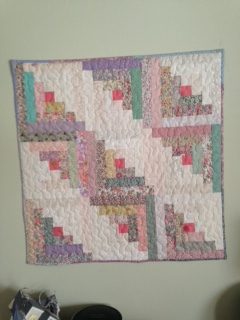 This one was made for a quilt show. The subject was Crayola crayons. The 2 faces were done on muslin by tracing the outline of a picture of me at 4 years old and one of my paternal grandmother who gave me my first new box of them in 1946. I shaded in all the details with Tsukineko fabric ink. I pre-quilted the main color which looks like a night sky. The flower gardens were English paper pieced in 1930's Aunt Gracie's fabrics. They and the pictures were appliqued on and the circles are large, colored buttons.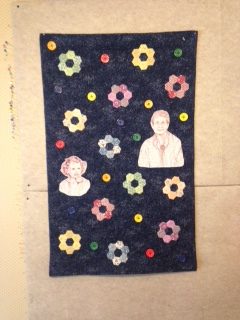 The last one is made from scraps given to me by a friend who makes crib sheets for day care centers. The only fabric that is mine is the gray sashing. I receive the fabric as triangles with the selvage on the long side and the only way to get the 61/2 inch cut square is serge them along the selvage side and cut the square with all bias edges.