How wonderful to be able to have employment where you can work with not only one, but two areas you deeply love.  Betsy Bauman has been so fortunate to be able to do just that.   She considers herself an art quilter, and her work has been seen in many venues across the United States.
Betsy's Red and White quilt took second place in both Quilt Odyssey in Hershey, PA, and the Lake Farm Park Quilt Show.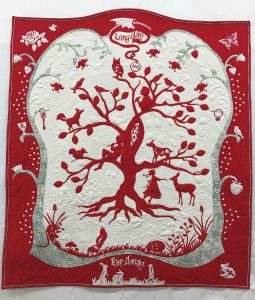 Her quilt – The Wave – won a second place ribbon at the AQS in Grand Rapids, MI, plus other awards at local shows.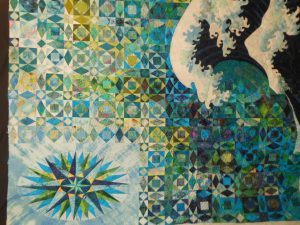 Here is her Tiffany quilt based on a tiffany lamp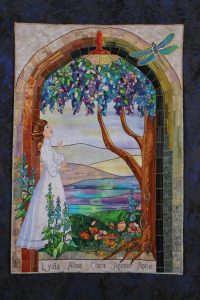 Betsy's daughter was the inspiration of her Girl with Goose quilt.  It won many People's Choice awards, she is so pleased that others like this one.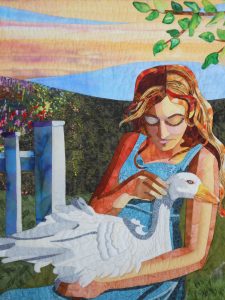 Here is her Square in Square based on Amish quilts.  It won Best Use of Color at the Vermont Quilt Festival.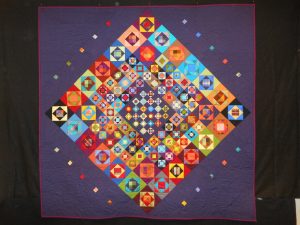 Betsy offers the following lectures:
 "Stories in Fabric"
"Stories in Fabric" is a performance presentation, illustrated with plentiful pictures in a power point.  It features stories from quilters past and present, taken from diaries and other sources.  It includes quotes such as "Patchwork! Ah, no! It was memory, imagination, history, biography, joy, sorrow, philosophy, religion, romance, realism, life love and death…"   "My whole life is in that quilt… I tremble sometimes when I remember what that quilt knows about me."
I speak about how women wanted to be remembered, the need to create beauty, and the stories quilters past and present put in their quilts.  So I guess it's about…love!  The love of quilting and why we do it.
"Why Do People Make Art?"
Part Art History, part Contemporary Quilt Art, this Power Point lecture illustrates the many reasons artists throughout history have created art: to explore beauty in nature or communicate ideas; to tell a story or to seek social change; to evoke emotion or to reinforce cultural ties, and many more.
We'll look at paintings by Andy Warhol, Picasso, Mondrian, Norman Rockwell, and others.  We'll look at quilt art by artists such as Susan Shie, Luke Haynes, Nancy Crow, Hollis Chatelaine, and many more.  As we explore examples of art throughout history, you will be asked to consider "What was the artist trying to do here?  Do quilt artists share the same goals?"
You may learn a few things to amaze your family and friends—and perhaps come away with inspiration for your next quilt masterpiece!
 "Threads of Time:
Looking at History Through our Quilts"
This Power Point and Lecture is a sort of "Detective" show about looking for clues in the fabrics and styles of antique quilts to better understand them and to try and date them.  It teaches listeners about when certain fabrics were available, when certain styles and patterns were popular, and what we can learn about the lives of the women who made the quilts.  It's based on the Barbara Brackman book, "Clues in the Calico," and I bring my own antique quilt collection to share after the talk.  When I did it for the Hiram Historical Society, members also brought antique quilts to show and share.
"Why Quilters Are Smart"
This is a fun and entertaining Power Point Lecture celebrating the wisdom we quilters have in our choice of hobby (or perhaps our obsession!)  We all know that quilting is good—and good for us!  But just in case you need a little more justification for your addiction—or you want some superior answers to those who wonder why you spend so much time and money on this quilting thing…. I bring experts to testify as to why exactly our hobby is excellent for our mental health, physical health and emotional health.
The talk also includes little quizzes for the audience to participate in.  I picture it being just right for a meeting where we are having a party–maybe Christmas or Valentine's Day. This talk has been given only once so far—to the Quilters Legacy of Lakewood.
***Each talk is about 45 minutes long. Lecture Fee: $125.00
Betsy's Contact Information:
Cell: 216-209-1171
baumanea@hiram.edu
2189 Lincoln Ave., Lakewood, OH 44107
Thanks to Carolyn Burgess for connecting me with Betsy.  Click here to listen to Carolyn's story.
And you can find Carolyn at:
Website: Appliques Quilts and More  https://www.appliquesquiltsandmore.com/
Twitter: Appliques Quilts and More -@AppliquesM
Facebook: Appliques Quilts and More
Pinterest: https://www.pinterest.com/appliquesquiltsandmore/_created/
Instagram: appliques.quilts.and.more