Annie Smith has the world's first podcast for quilters called Quilting Stash Podcast!  She is a quilter, teacher, author, lecturer, and so much more for quilters of all interest levels.  It was fun to visit and find out how Annie went from teaching a few classes on the side while working full time at another job to having her own quilt business full time. I especially enjoyed when she shares about color value and look forward to learning more about that in the future.
You can find Annie's favorite quilt, Patriotic Rose, at citystitcher.com
Don't forget to check out her website AnnieSmith.net
And her podcast!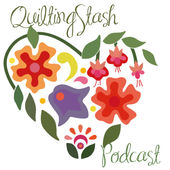 You can also find her on Instagram anniesmithqs
Here's a link to the Clover Fork Pins.  Don't forget to check your local quilt shop before ordering them here.