While looking on Tori McElwain's website The Quilt Patch by Tori, I saw that she was offering a class with a guest teacher.  Darla Hennessee Hall was so gracious to chat with me.  She has been free motion quilting on her A-1 Longarm, lovingly named Frankie, for 16 years! She has quilted for clients all over the United States. She also has quilted 6 Best of Show quilts, and has been hired for quilt shops and pattern designers to quilt their featured quilts.  Darla has developed her own style from her love of experimenting with different quilting motifs and wants to help other quilters develop their own organic style!  During our conversation we talk about QuiltCon that was in Phoenix, Arizona from February 16th through the 20th of 2022.  Since our interview was before the conference our comments indicate that it's coming up, but it is over now.  
Here's a couple of examples of Darla's longarm quilting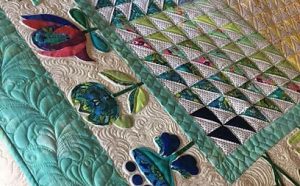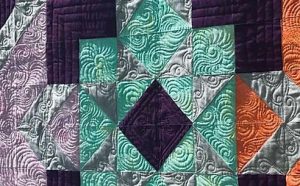 You can find Darla on
Instagram: longarmdarla
TikTok: longarmdarla
You can also find Darla on Tori's website
Website: The Quilt Patch by Tori
Thanks to Tori for connecting me with Darla!  Here are a few more links to find Tori!
FaceBook Group:  The Quilt Patch by Tori
Instagram: quilt_patch